Gloucester New Inn Grade I listed hotel damaged by fire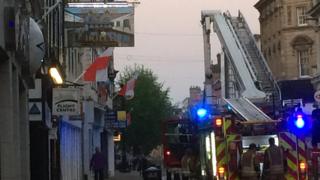 More than 50 hotel guests were led to safety as fire broke out in a Grade I listed hotel.
It is believed the fire started on the ground floor of the New Inn, in Gloucester, just after 01:00 BST, and then spread through the three-storey building to the roof.
The cause of the blaze remains unknown and investigations into the fire are under way.
No one was injured and guests were moved to two nearby hotels.
At the height of the fire 10 fire engines and a rescue ladder were in use.
Councillor Paul James, from Gloucester City Council, said he was "very sad" to hear of the fire.
He tweeted: "Hope the damaged parts can be sensitively restored and it quickly goes back to being a vibrant venue in the city."
Dave Pike, from Gloucestershire Fire and Rescue, said the fire had spread through parts of the old building and up into the roof space.
"There are voids through all the floors where there will be damage from the fire, but the majority of the blaze was up in the roof space what has caused most of the damage," he said.
He said the main part of the fire was now out, but some crews remained making sure the fire does not reignite.