Joanna Parrish murder: French killer 'to face trial'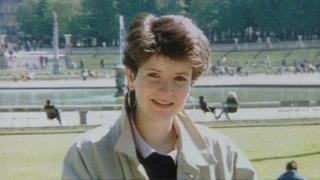 A convicted serial killer is expected to face trial over the murder of a British woman in France 27 years ago, the BBC understands.
Joanna Parrish, 20, from Newnham-on-Severn, was found dead in a river near Auxerre in 1990, having been abducted, raped and strangled.
Her parents met a French judge who told them the investigation into Michael Fourniret should progress to a trial.
Fourniret murdered seven young women aged 12 to 21. He was jailed in 2008.
On Friday, the investigating judge Sabine Kheris, met Ms Parrish's parents, Roger Parrish and Pauline Murrell to update them on the investigation.
Mr Parrish told the BBC the investigators were putting a lot of importance on Fourniret's statements and confessions which he has repeated several times.
Mr Parrish also told the BBC Fourniret said to police: "If she had not met me she would still be alive."
He added that after the meeting, it gave him real confidence into the investigation.
In February, lawyer Didier Seban told the BBC Fourniret had appeared in court "two to three times" and admitted the killing on each occasion.
Fourniret and his ex-wife Monique Olivier, have been chief suspects in the case for several years.
Ms Parrish was on a university placement when she died. Her body was found on 17 May 1990.