Liberal Democrats increase hold in Cheltenham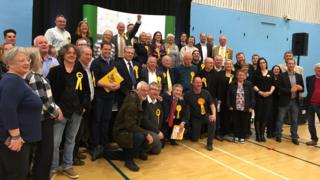 The Liberal Democrats have maintained control of Cheltenham Borough Council with an increased majority.
The party gained three seats which means it now has a 24-seat majority.
Cheltenham was the only district in Gloucestershire to hold local elections this year, with half the seats up for grabs.
Labour failed to win a seat, with the Conservatives and the independent People Against Bureaucracy Group losing one seat each.
The former Liberal Democrat MP Martin Horwood, who lost his Cheltenham seat to Conservative Alex Chalk in last year's snap general election, was elected on to Cheltenham Borough Council.
He will now represent Leckhampton.
Mr Horwood said Leckhampton was "my own local area and a community I care about".
"I just couldn't resist when people asked if I would stand and I had a great fellow candidate in Glen Andrews and we ran a cracking campaign.
"It was great fun to be back in the saddle," he said.
Cheltenham Borough Council's Lib Dem leader Steve Jordan said he was "clearly delighted".
He said: "We won 17 out of the 21 seats across Cheltenham that were up. It's difficult to imagine it getting much better than that.
"It's a real endorsement of what the Liberal Democrats have been doing in Cheltenham over a period of time. I think it's clearly great news for us and hopefully for Cheltenham as well."
Conservative group leader Tim Harman said: "I think what we have got is a fantastic team of young councillor candidates, all of whom have worked so hard.
"They knew when they went into this election, as we did, that it was going to be tough.
"Sometimes when you're the party of government and you're effectively fighting an election at local level, it can be very difficult."
Click here to see the detailed results from Cheltenham.
---
Analysis: Hayley Mortimer, BBC Gloucestershire political reporter
It's been a good night for the Lib Dems, which already had an 18-seat majority and they've now increased to 24.
They gained one seat from the Conservatives, one from an independent and one from the People Against Bureaucracy Group.
It means the Conservatives now have just six seats on the council.
The Labour Party, which hasn't had a presence on the authority for more than a decade, failed to win a seat.
But the big story of the night was Martin Horwood's return to politics.
He was the town's Lib Dem MP until 2015 when he lost his seat to the Conservatives.
He's now been elected as a borough councillor for Leckhampton.
---