Ah'Kiell Walker trial: Father denies force-feeding son water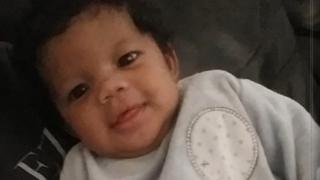 A father whose three-month-old son died from a brain injury has denied force-feeding him water and breaking his ribs and shoulder.
Hannah Henry, 22, and Alistair Walker, 27, deny the manslaughter of their son Ah'Kiell Walker, who died in July 2016.
Giving evidence, Mr Walker told Bristol Crown Court: "I just wanted him to get better quickly."
He also told the jury he asked Ms Henry to splash water on their son's face to revive him as he looked pale.
Ah'Kiell was discovered "freezing cold" and soaking wet by paramedics at the family home in Archdeacon Street, Gloucester.
He suffered brain injuries, possibly caused by shaking, and he may have been immersed in water, the court has heard.
A pathologist report found the baby had four broken ribs and a fractured shoulder which were caused four to eight weeks before his death.
Giving evidence, Mr Walker told the jury he never hurt his son and would have protected him.
He denied causing those injuries and said if he had done so he would have taken Ah'Kiell to hospital.
Jemi Akin-Olugbade, defending Mr Walker, said the prosecution case was that while Ah'Kiell was unconscious, Mr Walker force-fed him water.
Mr Walker told the court on the morning Ah'Kiell collapsed he had picked him up out of his Moses basket.
"He did look a bit pale. I picked him up and he didn't feel the same," he told the jury.
"We were trying to wake him up and putting water on his face.
"I said to splash him with water. Hannah splashed him with water. It was done between the both of us. I didn't splash him, Hannah did."
Mr Walker told the court that "red frothy stuff" came out of his son's nose, so he cleaned him up in the bathroom and Ms Henry dialled 999.
After being arrested, Mr Walker was told by doctors they could not save Ah'Kiell and his life support would be switched off.
"I was crying like a little baby," he said.
Under cross-examination, Mr Walker insisted his son was breathing when paramedics arrived.
"It was the paramedic that caused the brain injury," he said.
"Instead of suctioning him they pushed it back into him and stopping him breathing, causing the brain injury."
Ms Henry, of Tuffley, Gloucestershire, and Mr Walker, of Lansdowne Green, south London, deny all the charges against them.
The trial continues.