Ah'Kiell Walker trial: Dad 'never violent' to baby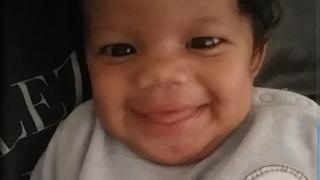 The mother of a baby boy who died from a brain injury said she would have called the police if her partner had injured their son.
Hannah Henry and Alistair Walker both deny the manslaughter of three-month-old Ah'Kiell Walker in Gloucester.
The prosecution alleges the three-month-old was shaken and immersed in water by his parents on 30 July 2016.
Ms Henry said: "If [Mr Walker] did anything to my child I wouldn't have sat there and let it happen."
When asked what she would have done if she believed Ah'Kiell had been injured by her partner, she replied: "I would have phoned the police."
"He was never violent to my kid," the 22-year-old said, but added that Mr Walker had broken her jaw when she was pregnant.
'Always happy'
Ah'Kiell was naked, cold and wet when paramedics arrived at his family home in Archdeacon Street, the court heard.
The prosecution said he was taken to hospital where he died the following day.
A pathologist found four older fractures to Ah'Kiell's ribs and a fracture to his shoulder, the jury was told.
Ms Henry said: "He was always happy. The only thing he didn't really like was getting undressed but that has been from birth. He wasn't really unhappy.
"I've never noticed him to be in pain. If I knew he was in pain or hurt, then I would have taken him to the doctor."
Ms Henry said she left Mr Walker alone with Ah'Kiell in the family home for about 10 minutes each day, but never returned to find the baby upset.
When asked about how Ah'Kiell suffered fractured ribs, she replied: "I don't know how it happened. I don't know who has done it, but I certainly haven't."
Ms Henry, of Tuffley, Gloucestershire, and Mr Walker, of Lansdowne Green, south London, both deny manslaughter.
The trial at Bristol Crown Court continues.