Ah'Kiell Walker trial: Mother 'would never' hurt her baby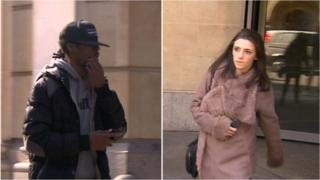 The mother of a baby who died from a brain injury has told the court she "would never" hurt her child.
Hannah Henry said her three-month-old son Ah'Kiell Walker had "frothy, bloody mucus" coming from his nose on the day before he died in July 2016.
The 22-year-old from Gloucester told Bristol Crown Court she and her partner found Ah'Kiell pale and unresponsive before they called 999.
Ms Henry and Ah'Kiell's father Alistair Walker, from London, deny manslaughter.
Ah'Kiell was discovered "freezing cold" and soaking wet by paramedics at the family home in Archdeacon Street, Gloucester.
He suffered brain injuries, possibly caused by shaking, and he may have been immersed in water, the court has heard.
He was taken to hospital on 30 July and died the following day.
At the start of the defence, the court was shown eight video clips showing the baby with his parents.
All of them showed a smiling, happy baby, including the last clip filmed just days before he died.
Ms Henry described how she had noticed nothing wrong with her son when she woke up around 08:00 BST on the day he was taken to hospital.
But two hours later, Mr Walker, 27, picked up Ah'Kiell and noticed that he was very pale, was not responding and frothy, bloody mucus was coming out of his nose, the court heard.
Ms Henry called the ambulance and went into the bathroom to flick water into his face to try to get him to respond.
She then described how at the hospital Ah'Kiell was in the resuscitation room when she was arrested on suspicion of attempted murder.
When the lawyer pointed out inconsistencies in her police statement she said: "I just wanted to get out of the police station to get back to being with my son."
He asked her: "Did you think you'd done anything wrong?"
"No," she replied.
He then asked her if she had done something to Ah'Kiell. She told the court: "That's ridiculous."
She was also asked if she had ever hurt her son, to which she replied: "I never would."
Ms Henry, of Tuffley, Gloucestershire, and Mr Walker, of Lansdowne Green, London, deny manslaughter, causing or allowing the death of a child, and cruelty to a person aged under 16.
The trial continues.