Jonathan Earp died in Gloucestershire hospital toilet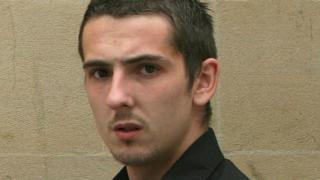 A man who died in a hospital toilet and was not found for three days took a lethal mixture of cocaine, alcohol and prescription drugs, an inquest heard.
Jonathan Earp, 32, was admitted to Gloucestershire Royal Hospital in July with suspected deep vein thrombosis.
A security guard sent to find him told the inquest he did not know the 32-year-old had twice previously collapsed in the toilet.
The hospital trust said it had improved the reporting of absences.
Gloucester Coroner's Court heard Mr Earp was using high-strength painkillers and prescription drugs to treat his drug addiction.
After being admitted to hospital on 6 July, he left his ward to go downstairs for a cigarette in the disabled toilet.
He collapsed inside the toilet but was found by security guards and taken back to his ward.
'Rare occurrence'
The same thing happened on the following day, then at 23:00 BST he told staff he was going outside for a cigarette, but did not return.
A security guard told the court he checked the toilet, did not get a response when he knocked on the door, and presumed someone was using it.
He told staff he could not find Mr Earp, whose body was discovered the following Monday at 08:30 BST, the inquest heard.
Assistant coroner Caroline Saunders said there were missed opportunities to find Mr Earp, but it was likely his death could not have been prevented.
She ruled he died as a result of drug use.
A spokesman for the hospital trust said: "This rare occurrence was distressing for everyone involved and we offer our deepest condolences to his family.
"We are now working to ensure that changes resulting from Mr Earp's death are embedded into our current practice."