Gloucestershire Care NHS trust rating upgraded to 'good'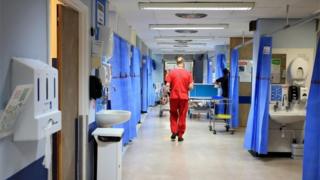 A trust in charge of seven community hospitals in Gloucestershire which had been told to improve has had its rating upgraded to "good".
Gloucestershire Care Services NHS Trust was rated overall as "requiring improvement" in 2015.
The Care Quality Commission said safety had been inadequate at the minor injury units because of staffing patterns.
But inspections in January and February rated the units as "good" across all areas.
The inspections focussed on the seven minor injury units, community services and end-of-life care as well as the trust's leadership.
The trust's director of nursing, Susan Field, said: "We welcome the opportunity to learn from the inspection and we are already focusing on new opportunities for improvement based on comments and observations from the inspection team."
Gloucestershire Care Services is in the process of merging with 2gether NHS Foundation Trust in Herefordshire.
Joint chief executive, Paul Roberts, said: "It provides a great foundation to progress our work to improve our physical and mental health services in Gloucestershire."
Gloucestershire Care Services runs the county's seven community hospitals, district nursing and specialist services such as heart failure, IV therapy and community dentistry.