Gloucester widow sent 25,000 knitted hearts for Malvern show garden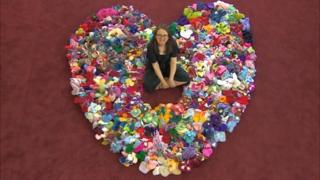 A widow who is knitting a garden in memory of her husband has been sent more than 25,000 hand-crafted hearts by knitters from all over the world.
Clare Young, from Gloucester, said she had been "blown away" by the response to her plea for 10,000 woolly hearts, which was shared on social media.
Her full-sized knitted show garden will be at the RHS Malvern Spring Festival in May.
She said 10,000 had been a "crazy target" but the idea had "wool-balled".
The 50-year-old took up knitting as a way to cope with her anxiety and depression after her husband Ken died in 2015.
Since then, she has been creating a Work of Heart garden to mark her late husband's 50th birthday year and raise £50,000 for the Sue Ryder Leckhampton Court Hospice in Cheltenham, which looked after him.
"I never, ever in my wildest dreams believed we would get such an incredible response to the knitted garden," she said.
"At first I was worried we wouldn't meet the crazy target of 10,000 hearts but a week after we launched packages started arriving."
Up to 400 knitters from as far away as Texas, New York and Arizona in the USA and Auckland in New Zealand have all taken up their needles to help out.
Mrs Young, said it was now "truly a global garden".
"I have been completely blown away. Many have been sent with small notes or cards where knitters have shared their own stories of love, loss and bereavement," she said.
"It has really 'wool balled' - it's almost as if me being brave and talking about my grief and struggle with my mental health since my husband's death has helped others talk about their loss too."
The 4 sq m (13ft) show garden, which includes a hospice bedroom overgrown with knitted plants, will be on show at RHS Malvern from 10 May.