Stroud Subscription Rooms withdrawn from sale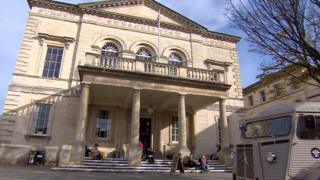 A 183-year-old arts and entertainment venue in Gloucestershire will remain in public ownership after councillors voted to withdraw it from sale.
Stroud's Subscription Rooms was put on sale in July by the district council priced at £600,000.
Green energy firm Ecotricity was named as the preferred bidder over a local community group.
But now an all-party group of councillors has voted to lease the Grade-II listed building instead.
Julie Wickham, of campaign group Subs Community Association, welcomed the result and said: "We look look forward to working to a positive solution."
Council leader Steve Lydon said. 'We've listened to people's concerns, and have withdrawn the option of selling the Subscription Rooms.
"Instead, we will be inviting the existing bidders and other interested groups to come forward with a suitable bid to lease the building.
"In these hard times of austerity, the council still needs to make savings, and this will have to be part of any solution."
The terms of the new 30-year lease will state that the building must continue to be available to the public for cultural use.