Rose West's nephew Steven Letts jailed for child rape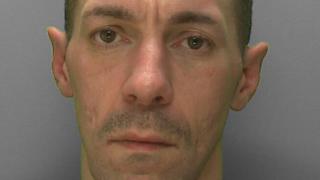 The nephew of serial killer Rose West has been jailed for raping a "highly vulnerable" 12-year-old girl.
Steven Letts, 39, met the girl at Gloucester Quays while she was on a shopping trip with a support worker from the care home where she lived.
A jury heard he took her back to his Barton Close flat, plied her with drugs and alcohol and then had sex with her.
Letts was sentenced to eight years for rape and 10 years consecutively for another offence of aggravated burglary.
He pleaded not guilty to abducting the girl and raping her, but was convicted of both charges at Gloucester Crown Court on 6 November.
'Compulsive liar'
The court heard Letts encouraged the girl to leave her support worker on 6 March after she had approached him in the street and asked him for a cigarette.
She was found the following morning in Letts's flat by police, who arrested him.
Judge Jamie Tabor QC described him as "a very volatile man", "a compulsive liar" and "a man steeped in the use of drugs".
He said he accepted the victim looked and sounded much older than 12 and the court had heard she willingly had intercourse with Letts.
However a child under 13 cannot legally give consent and Judge Tabor said the victim was "highly vulnerable".
Jailing him, he described Letts as a "dangerous" offender "of particular concern" who should not be released until the parole board is satisfied he no longer poses a threat.
Letts, who refused to attend court for sentencing, had an extra year added to his parole licence and must sign the sex offenders register.
At a separate trial, jurors convicted him and another man of storming a couple's house in Tredworth armed with a machete.
Letts's aunt was serial killer Rose West who was convicted of murdering 10 young girls and women whose remains were found at the house she shared with husband, Fred.
He killed himself in prison in 1995 while awaiting trial on 12 murder charges.