Gloucester council plans stained glass for bus station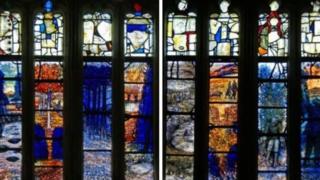 Plans to install a £100,000 stained glass window in a new bus station in Gloucester have been approved.
A condition of the planning approval for the station was that it included a piece of public artwork.
The window would be created by artist Tom Denny, who designed a window triptych at Gloucester Cathedral.
Leader of Gloucester City Council, Paul James, said it would also "potentially help" the council in its ambition of being City of Culture in 2025.
Supporters of the project said its cost is a very small part of the overall build: the new bus station budget is £7.5m.
But some feel the cost of the artwork is excessive in a "cash-strapped environment".
Leader of the Labour group, Terry Pullen, said the window cost is "an extortionate amount" and could have been better spent elsewhere:
"We're in difficult times - we're facing stringent cuts - the council cannot justify committing this sort of money to the project" he said.