Preferred bidder for Stroud Subscription Rooms leaked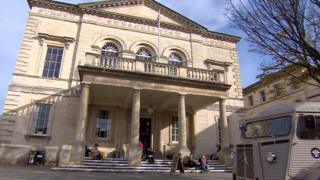 A green energy firm has been revealed as the preferred bidder for an arts and entertainment venue before the council wanted to announce it.
The Stroud Subscription Rooms was put up for sale by the district council in the summer but their recommendation was leaked at a town council meeting.
Ecotricity was named as the apparent favourite to buy the Grade II-listed building which was priced at £600,000.
The district council said it would make a recommendation public on 16 November.
District councillor Martin Baxendale said Ecotricty had been revealed as the preferred bidder at a town council meeting on Monday.
'Bizarre secrecy'
He said: "There's no real reason for it to be kept confidential, other than - as far as I can see - to keep the lid on public debate. The majority of the group were in favour of the Ecotricity bid.
"There were a couple who objected really strongly - including myself - to the whole principle of privatising this building. The level of secrecy over this is getting bizarre."
Community group Stroud Trust, supported by the town council, has also put in a bid.
Deputy mayor Margaret Poulton said: "It's definitely [financially] viable once the trust is in place - they're eligible for grants for updating the building.
Ecotricity's Dale Vince said: "Our plans are to keep it as a public venue. We think we can make it better than it is today - and also to combine it with use by our staff during the day."
Stroud District Council said: "An all-party group of councillors will make a recommendation to the Strategy and Resources committee on the future of the Subscription Rooms. This will be made public on 16 November."
It said it had organised a public information event on 18 November "to get public feedback on the report" and the final decision would be made on 5 December.