Homes reconnected in Cheltenham after burst water main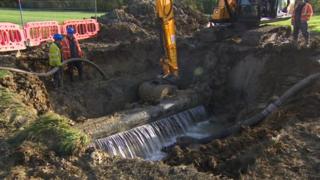 Thousands of homes which lost their water supply after a pipe burst in a nearby field have been reconnected.
More than 7,000 households had no water in Churchdown, Cheltenham after the 24in (60cm) main ruptured in the early hours. Fifteen schools were also shut.
Severn Trent Water said it was "happy to say most of our customers are back on" but "some may still experience the supply coming and going".
It said those still affected could collect bottled water until 22:00 GMT.
The company said it was "now starting to move water around our network of pipes" and said tankers full of water were "ready and waiting" to fill up the pipes.
It warned that some supplies could be "a bit murky" and wanted to reassure customers this was "nothing to worry about".
Bob Stear, from Severn Trent Water, said: "It's a particularly tricky length because the whole length cracked, so that means we've got quite a big job to repair the pipe.
"So there's two main work streams - one is to make the fix to the pipe itself. The other is to find new ways of bringing water from other areas to keep the people of Cheltenham supplied with water."
Gloucestershire County Council said schools would be reopening on Tuesday but advised parents to check beforehand.
The ruptured water main also affected the government spy base GCHQ, but a spokesman said it had "robust contingencies" in place and it was "business as normal" at the centre.