Under-age driver dies after Cheltenham car crash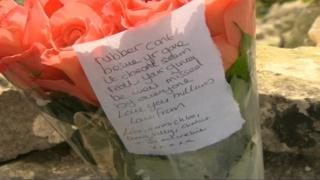 An under-age driver who crashed a car into a dry stone wall in Cheltenham has died.
Jesse Johnson, 16, was rushed to John Radcliffe Hospital in Oxford but died later of his injuries.
Two other teenagers, aged 15 and 16, were treated for minor injuries after the crash on Thursday at about 23:45 BST on Cotswold Way.
Gloucestershire Constabulary has asked for anyone who saw the car before the crash to make contact.
Darren Jones, from Cheltenham Boxing Academy, where Jesse trained, paid tribute to the teenager.
He said: "He was such a humble kid - such a lovely kid. Outside the ring he wouldn't say boo to a goose.
"Some people have an ego when they get involved in boxing, they take it outside.
"But JJ was never like that and I loved that kid and it's destroyed me that he's gone."