Gang jailed for trafficking drugs into Gloucester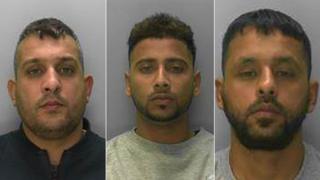 Three members of a drugs gang have been jailed for trafficking about £600,000 worth of heroin and cocaine into Gloucestershire from the Midlands.
Brothers Majid and Rajid Hussain along with Mizanur Rahman admitted ferrying drugs and cash between Gloucester and Birmingham over four months last year.
Police surveillance caught them making up to 18 trips between the two cities.
Ringleader Majid Hussain, 36, of Smethwick, West Midlands, was jailed for 10 years at Gloucester Crown Court.
Mizanur Rahman, 25, of All Saints Road, Gloucester was jailed for eight years, eight months and Rajid Hussain, 35, from Gloucester for eight years.
Hidden in boot
Rajid Hussain was picked up by police on the M5 travelling back from Birmingham last August, with drugs hidden in the boot of his car.
A month later, Mizanur Rahman was arrested in a car park in Gloucester and in November, Majid Hussain's house was searched and cash and drugs packaging and equipment seized.
The three admitted conspiracy to supply drugs between May and September, 2016.
'Fantastic sentence'
Det Con Col Sheppard said it had been a "contracted and complex investigation" over several months.
"These men were unscrupulously benefiting financially from the misery of others," he said.
"This should act as a reminder to anyone involved in the drugs trade who thinks that Gloucestershire is a soft target."
Det Insp Simon Fletcher, from Gloucestershire Police, said it was a "fantastic sentence".
"The judge has sent a very strong message that organised criminality will not be tolerated here in Gloucestershire," he said.