Gloucestershire police and fire merger 'finely balanced'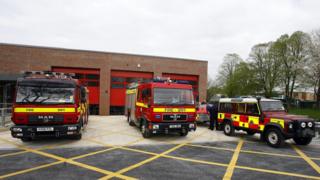 The case for a police and fire merger in Gloucestershire is "finely balanced", an independent report has said.
The Home Office funded study follows a government push for greater collaboration between services and more scrutiny of fire and rescue authority.
The report said a merger would improve accountability, save money by sharing buildings and boost community safety.
The Conservative-led county council disagrees with some of the findings.
'Change of heart'
A number of governance options were explored in the report ranging from keeping the status quo, to having the PCC taking on the responsibility for fire services as a Police Fire and Crime Commissioner (PFCC) or having a greater say in the shaping of future fire services.
One of the options was the fire service being overseen by the police and crime commissioner (PCC), a role currently held by Independent Martin Surl.
Cabinet member for fire, Nigel Moor, said the service was already scrutinised at cabinet, full council, and two other committees.
"I can't see how being scrutinised by one individual can in any way replicate what we are doing here," he said.
But he was open to sharing buildings and facilities to save money.
PCC Martin Surl, said: "If they (the council) don't get behind it in some way, shape or form what will happen is that Gloucestershire will slip towards the back of the pack."
He added that the authority's decision was a missed opportunity with the chance of getting government funding to develop the fire service.
Mr Surl said he would pursue the matter and has urged the council to put aside its differences and "to shape up a little bit and stop being so defensive".
But Mr Moor insisted the merger was a "waste of public money" and the report confirmed no changes were needed on the grounds of performance or public safety.
The report also concluded that there were a number of risks, such as a lack of support by councillors, financial pressures, and the extra responsibility being placed on the PCC.