Horse semen auctioned in bid to buy Cooley Rorkes Drift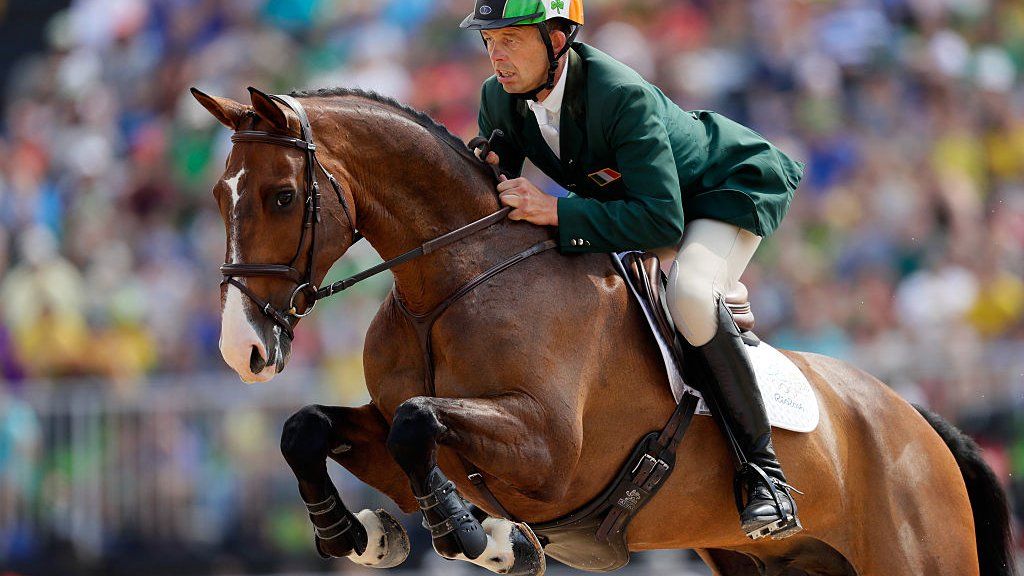 Equine semen has been sold at auction by a three-day event rider as part of a fundraising bid to buy the horse he rode at the Rio Olympics in 2016.
Jonty Evans is trying to raise £550,000 in a month to buy Cooley Rorkes Drift after it was put up for sale.
A straw of semen from the horse's sire, Courage II, sold for £1,000 on Saturday evening in an online auction.
Mr Evans, who finished ninth in Rio for Ireland, has raised £325,000 but said time was "running out".
He has trained and ridden the 11-year-old horse for the past six years.
But the value of Cooley Rorkes Drift has risen due to its recent success and its owner now wants to sell him.
Mr Evans, from Andoversford in Gloucestershire, launched a fundraising campaign and online auction in July after he was given first-refusal to buy the horse "at a preferential rate".
He said the horse - who he calls his "partner and best friend" - will be sold to the highest bidder if he does not raise the funds by Thursday.
The semen from three horses, including Courage II, was donated to Mr Evans' online auction.
Mr Evans said: "[The horse semen] is selling for more than it goes for on the open market but there is only a limited amount.
"Courage II unfortunately passed away in 2006 so only a few rare straws of his semen remain."
"People have been amazing. We've had kids phoning us wanting to give their pocket money, it really is enough to move you to tears," Mr Evans added.
"Everyone has been so generous and kind in helping to fund us but it does feel like time is running out.
"We're now hoping there's a company out there or a fairy godmother or fairy godfather who might be interested in getting involved."
Related Internet Links
The BBC is not responsible for the content of external sites.