Davy lamp fetches £15,000 at auction in Cirencester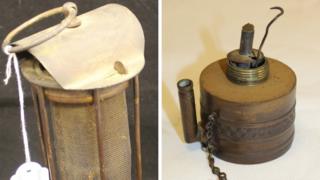 A 19th Century oil lamp, which had an estimated value of £100-£150, has fetched £15,000 at auction.
The Newcastle-type Davy miner's lamp, made by R Watson, went under the hammer in Cirencester.
It was bought by an anonymous buyer from abroad.
Auctioneer Philip Allwood, from Moore, Allen and Innocent, said he was "staggered" and he believed it could be a world record high price for such an object.
"It was in a box of bits and pieces that came into the auction for a general sale," he said.
"As far as I can see, I can't find any miner's lamp making any more money than this [at any other auction]."
Mr Allwood said it had been "very, very difficult" to value such an item.
"When I pulled it out of the box, I checked the maker and did a bit of research.
"I found several different versions of this sort of lamp selling over the last few years - one with four bars running down it that made £1,000, and several with three bars that made around £150, but no record anywhere of one with six bars like this one.
He said two telephone bidders had been bidding against each other until the hammer went down for a "staggering" £15,000.