Hartpury student expelled for posting dead animal on social media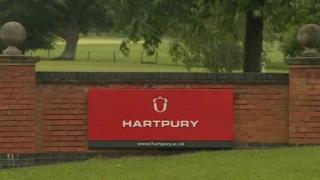 A college student has been expelled after posting images of a dead animal on social media.
Several students at Hartpury College, in Gloucestershire, were suspended last week after posting a film of themselves killing an injured fox cub.
But the college said the expelled student "was told to leave" because of an "earlier incident involving the death of a cat".
It said it was working "with both the police and the RSPCA".
'Prevent suffering'
Gloucestershire Police said the fox cub killing had not been "an act of cruelty" as the cub had been badly injured by a car.
They said one of the students, training to be a gamekeeper, had killed the cub, after it was hit by a vehicle on Monday, to prevent it from suffering.
The college said it had disciplined the students involved because it was "concerned about the manner in which it was put onto the internet".
An open day which had been due to take place this weekend was also cancelled after worries about security following comments posted on social media.