New 'protector of the forest' elected in Forest of Dean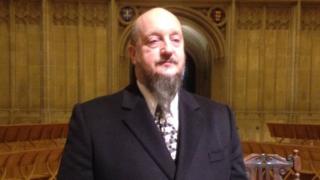 A new "protector" or verderer of the Forest of Dean has been chosen.
Rich Daniels, recently awarded an MBE for his services to the forest, is one of four verderers of the forest.
The verderers' role is to protect trees and wildlife in the district. They also form a court which meets four times a year. The role is for life.
Mr Daniels said he was "elated" to win the show-of-hands vote at Gloucester Cathedral, and said the forest was "very special" and needs protecting.
Verderers are the sole remnant of an organisational structure developed after Norman times.
First mentioned in the Forest of Dean in 1216, they were judicial officers and dealt with offences including the "taking of venison, the illegal cutting of, or destruction of, woodland, and encroachment through unauthorised enclosures and buildings".
The only qualification to become a verderer is "to own land within or near the Forest, have good health and be free from other engrossing duties".
Mr Daniels, who replaces Ray Wright who died in 2015, said: "Top of the list for me is to look after the forest for everybody.
"The forest is under so many pressures - from development, from recreational use and the wildlife is under pressure all the time."