Recommendation to close Coln House School in Fairford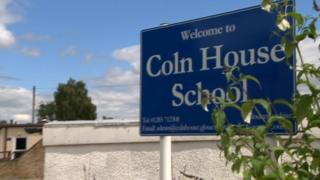 A special educational needs school has been recommended for closure.
Coln House School, in Fairford, was put in special measures after an Ofsted report rated it "inadequate" and pupils were removed over safety concerns.
Following a six-week consultation Gloucestershire County Council said the school was no longer financially viable and recommended it be shut.
The residential school catered for 35 pupils aged nine to 16, all with complex learning difficulties.
Management failure
The Ofsted report highlighted concerns over a high number of physical restraints being used on pupils and a failure of the school's management and governors to keep them safe.
The council removed all pupils in July - but despite having no pupils, the school is still open under an interim head teacher.
If the council's recommendation is accepted, it is likely that Coln House will close in March next year.
The results of a separate independent safeguarding report are also due to be published.