Ben Hooper's Atlantic swim bid postponed due to storms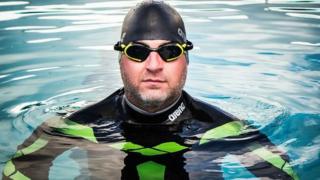 A man who wants to become the first person to officially swim across the Atlantic has "postponed" his attempt after storms damaged a support boat.
Ben Hooper, 38, from Cheltenham, set off from Senegal on 13 November and had hoped to arrive in Brazil in March.
Mr Hooper said on Facebook, "in the interest of the safety of all souls on-board" they would "sail directly to Natal in Brazil by the shortest route".
His aim had been to raise £1m for charity and create a world record.
'Foolhardy and unnecessary'
Other people have also tried the challenge but were not approved by Guinness World Records.
The attempt to swim 2,000 miles (3,200 km) across the Atlantic was originally scheduled for 1 November but was postponed several times due to bad weather, faults with a support boat and two members of the crew pulling out at the last minute.
Mr Hooper "reiterated" in his Facebook post that "my attempt to become the first person to swim across the Atlantic Ocean, every single mile remains, but that it has been postponed for the time being".
He added: "My crew have worked tirelessly to make this possible and this decision has not been taken lightly. Indeed, the easy option would have been to carry on at all costs - that would have been foolhardy and unnecessary."
He said he had managed to swim 87 miles in the 33 days since setting off.