Antony Gormley creates new work for Gloucestershire charity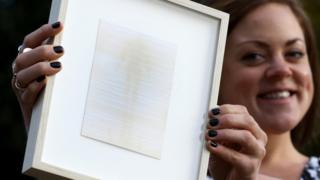 The Angel of the North creator Antony Gormley has created a piece of work to help a community art therapy programme run by a small Gloucestershire charity.
The international artist has donated a 15cm (6in) by 10.5cm (4in) drawing - depicting a shadowy figure - to the hospice charity Longfield.
The new drawing, Reflection IV, 2016, will carry a reserve price of £2,500 in the charity's online eBay auction.
The artwork will be unveiled at The Wilson gallery in Cheltenham on Monday.
In 2014, a maquette of the Angel of the North sculpture sold at Christie's for £3.4 million.
Two pieces by the late Sir Paul Hogarth, who illustrated the covers of Graham Green's novels and was a member of the Royal Academy of Arts, will be among the 200 artworks sold on eBay.
A painting entitled Old Punks Never Die by Boy George, a doodled self-portrait by Lionel Richie and a Top Gear collage by Phill Jupitus will also be sold.
The Big Heart eBay auction will run until 1 December.