Big volunteer surge after friends abandoned drunk woman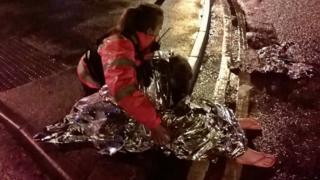 A community group which criticised people who left a young drunk woman alone has been inundated with new offers from volunteers.
The Cheltenham Guardians posted an open letter online after Emily was deserted during a night out on 11 November.
They came to her aid after she was found ill in a taxi in Cheltenham town centre.
The letter attacked Emily's "friends" for abandoning her and tying up valuable resources.
An ambulance eventually had to be called after her friends failed to collect her, costing the NHS £300.
The guardians, who run volunteer patrols aimed at keeping people safe on nights out, say they have received more than 30 applications from new volunteers since sharing Emily's story.
The group follows its own protocol aiming to protect vulnerable lone women, waiting with them for lifts or intervening if they are at risk of harm.
In the past they have phoned parents to tell them of their children's whereabouts and forked out for taxis to get people home safely.
The letter was addressed "Dear friends of Emily" and criticised the group for not taking care of her properly.
The guardians said when they found Emily it was "fair to say she had seen better days".
Repeated attempts to reunite her with her friends failed, as they promised to collect her, but did not show up, the letter said.
'Great job'
"Friends of Emily, we looked after your friend for two hours," it read. "It was cold, raining and she was poorly.
"We cared for her unconditionally whilst you purposefully gave us the run-around, hindered our progress, and despite our pleas you never came.
"I hope you enjoyed your night at the expense of us, South Western Ambulance Service and Emily. Great job guys, you can be really proud of yourselves."