Cheltenham A40 bus lane plan shelved after three years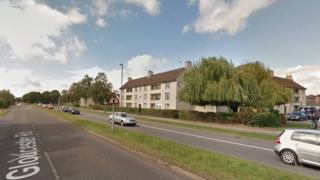 A £4m plan to build a bus lane along a main route into Cheltenham has been ditched after three years of planning due to concerns about its viability.
The A40 plans between Tennyson Road and Telstar Road was approved and due to be funded by the regional transport fund.
Gloucestershire County Council leader Mark Hawthorne said 66% of respondents opposed the plans and there were doubts over bus journey time savings.
Bus firm Stagecoach said the decision was "short-sighted and damaging".
'Congestion is worse'
Managing director Rupert Cox said: "I'm really disappointed about the decision, it's going to have a big impact on our bus customers over the coming years.
He said their 94 service, which makes two million journeys a year, would have benefitted from the new lane as well as a park and ride at Arle Court.
Mr Cox said: "We all know that congestion is worse today than it was 10 years ago."
'Small saving'
A public consultation previously found 66% of respondents were against the plans.
There was uncertainty about the town's growth plans to the west of Cheltenham and the council was already committed to another bus lane between Telstar Way and Arle Court.
The plans were due to get final approval for funding by the GFirst Local Enterprise Fund (LEP).
Campaigner Dan Papworth said: "It's a very small saving, you're talking about a few minutes, only in rush hour, only on weekdays and only on the westbound section, it's not great value for money."
Cheltenham MP Alex Chalk, who led a campaign against the plans due its viability and concerns over removing trees and hedgerows, has welcomed the move.