Ben Hooper's Atlantic swim attempt further delayed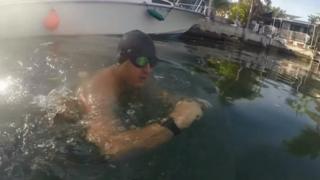 A man's attempt to become the first person to officially swim across the Atlantic has been delayed by two crew members pulling out of the expedition.
Ben Hooper, 38, was due to have started his swim from the west coast of Africa to Brazil on Monday morning.
But, he said, a medic had become unsettled and quit the crew, prompting another crew member to leave as well.
He said he was still hoping to begin the 2,000-mile (3,200 km) challenge later this week.
Mr Hooper, from Cheltenham, said both crew members would need to be replaced.
'Key member'
"The expedition isn't grounded, but... I need to replace my medic and one sailing crew."
He said the medic was a key member of the team he could not go without, but he was hopeful one of his two "backups" would soon be able to join the team.
The attempt was originally due to begin on 1 November, but it has already been postponed several times, due to bad weather and an electrical fault with one of the two support boats.
Mr Hooper's four-month attempt to swim from Senegal to Natal in north-east Brazil is due to end next March.
He hopes to raise £1m for charity by completing the task. Other people have attempted to swim across the Atlantic but no previous attempt has been ratified by Guinness World Records.