No calls made from nearly 100 phone boxes in Gloucestershire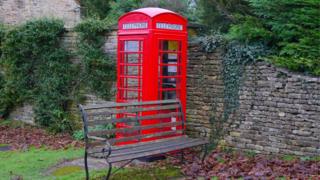 Ninety-six phone boxes in Gloucestershire have had no calls made from them in the past year.
The figures have been revealed as part of a review by BT into which payphones are no longer needed.
The company said phone box usage has declined by over 90% in the past decade due to more people using mobile phones with better coverage.
More than 290 out of 743 phone boxes in the county could be decommissioned and removed as part of the review.
Local communities will be given the chance to adopt traditional red "heritage" phone boxes if it is decided they are no longer needed.
Decommissioned kiosks in the UK have already been turned into facilities including containers for defibrillators, libraries, shops and art galleries.
BT are running consultations lasting three months in each of the six Gloucestershire districts.