John Lewis store opening in Cheltenham delayed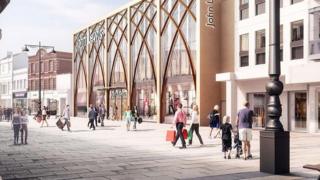 The opening of a new John Lewis store in Cheltenham has been delayed by "about six months" because of a "contractual wrangle".
The shop in the former Beechwood Shopping Centre had been due to open next year.
But it has now been removed from a list on John Lewis's website of new stores due to open in 2017.
The company said it was still "fully committed" to opening the new shop, which would create 250 jobs.
Conservative MP for Cheltenham Alex Chalk said the John Lewis management team had told him the firm was committed to opening the Cheltenham store, despite there having been a "slight contractual wrangle".
'Regrettable slip'
He said: "They made it crystal clear... there was no question of John Lewis pulling out.
"The timetable has slipped a bit which is regrettable, but the main thing is it is going ahead."
Mr Chalk added it would open "at some point in 2018, so it looks like work has been pushed back by six months or so".
John Lewis and Blackrock, which owns the building, said in a statement: "We are currently dealing with preliminary project matters and will announce our revised timeline in due course."
Work to alter part of Cheltenham's one-way system to allow developers to redevelop the site has almost been completed.
The Beechwood Shopping Centre closed in February after 25 years of operation, when the final tenant - Debenhams - left.