GCHQ staff create poppy waterfall for legion appeal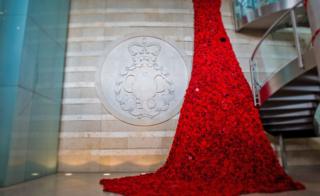 A 10m (32ft) high waterfall of poppies has been created by intelligence agency staff at GCHQ's base in Cheltenham.
More than 9,000 poppies were knitted, sewn and crocheted by staff to mark the launch of the Royal British Legion's Gloucestershire poppy appeal.
Covering 30 sq m (323 sq ft) and weighing 40kg (88lbs), it took 300 hours to sew the Poppyfall together.
Robert Hannigan, GCHQ director, said: "It's a symbol of unique commitments by individuals and team effort."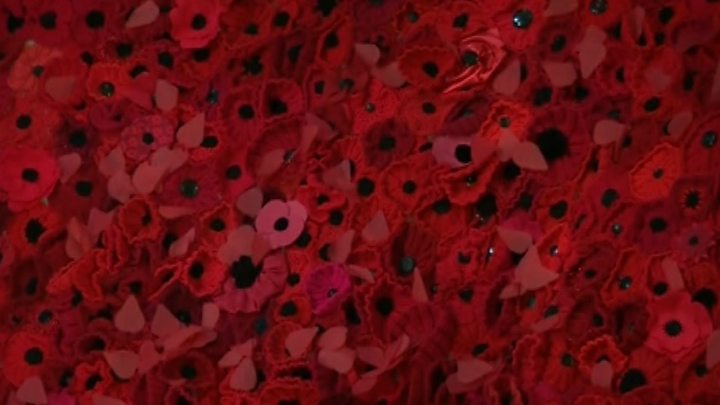 The Government Communications Headquarters (GCHQ) is one of the three UK intelligence and security agencies, alongside MI5 and the Secret Intelligence Service (MI6).
Mr Hannigan said: "Our own staff came up with idea of a Poppyfall. It was wonderful to see everyone work together to make it happen.
"I even rolled up my sleeves and sewed on a poppy - which probably set it back by several hours."
To meet their poppy target, staff in Cheltenham were helped out by colleagues from across the UK and by the agency's overseas partners.
As a result, the waterfall includes black poppy roses from GCHQ's Black Asian and Minority Ethnic (BAME) network and rainbow poppies from Pride, as well as specially designed 3D printed poppies.
Sue, one of the GCHQ crafters who contributed, said: "I haven't knitted in years. I loved being able to do something creative in my lunchtime and I even got my mum and grandma to help make poppies at home."
The poppy waterfall will remain at GCHQ until the end of November. A section is due to go on display at Gloucester Cathedral from early November, with the remaining poppies sold to raise funds for the Legion.
In 2014, 1,300 GCHQ staff dressed in red rain ponchos launched the county's poppy appeal by forming a giant poppy.