Crews called to fire above Jolly's department store in Bath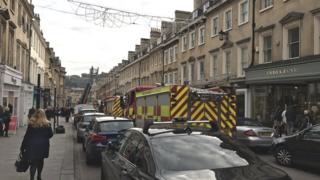 Fire crews were called to a blaze above a department store in Bath.
Seven fire engines, a turntable ladder and command vehicles were sent to Jolly's in Milsom Street after smoke was spotted inside the building.
The store was evacuated before crews arrived. Firefighters in breathing apparatus assisted five people from the flats above the shop to safety.
Avon Fire and Rescue said the fire started in a stairwell serving the flats.
The fire was extinguished by a sprinkler system.
South West Ambulance Service confirmed no one was injured in the incident.