Special needs school in Fairford unlikely to reopen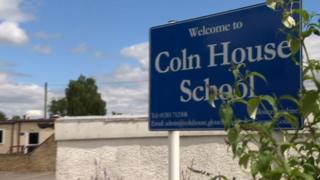 A special educational needs school is "financially unviable" and is unlikely to reopen after concerns were raised about pupil safety.
Coln House School, in Fairford, was placed in special measures after an Ofsted report rated it "inadequate".
The head teacher and three staff members have since been suspended pending an inquiry, the BBC understands.
The county council would not confirm the reasons for the suspensions.
The residential school catered for 35 pupils aged nine to 16, all with complex learning difficulties.
An Ofsted report highlighted concerns over a high number of physical restraints being used on pupils and a failure of the schools management and governors to keep them safe.
The county council removed pupils at the end of the summer term and an interim head was appointed.
But the board of governors resigned stating they had "no meaningful role to perform" after the pupils were removed.
'Physical restraints'
Councillor Paul McLain, cabinet member for children and young people, said the students had since been placed in other schools.
Although the school is still open under an interim head teacher there are no pupils.
Mr McClain said demand for Coln House had dropped to such a level the council would no longer be able to afford to keep it open.
He said: "That means the school will be making a crippling loss - roughly £100,000 a month."
John Pemberthy, from the National Union of Teachers, said he was "saddened" but his members were "resigned to the fact that the most likely outcome is closure at some point next year".
The results of an independent safeguarding report are due later this year and the council is holding a separate consultation, beginning on Monday, with a view to closing the school early next year.