'Human swan' migration project restarts after conservationist's injury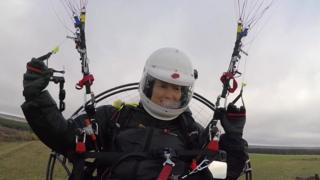 A conservationist has restarted her efforts to track the migration of Bewick's swans from arctic Russia to the UK after being injured on take-off.
Sacha Dench dislocated her knee and damaged a ligament which delayed her project by a week or so.
She added: "We had to re-route around an area that had safe landing sites, we also had bad weather for a few days."
The team is currently at Lake Peipus on the Russia-Estonia border and is set to travel into Estonia over the next day.
'Hard to hear'
"When they get here, they are exhausted they rest for a few days, some actually sleep for a couple of days and then they start feeding up again at the shallow waters," added Ms Dench.
Ms Dench from Nailsworth, Gloucestershire has tested her newly adjusted paramotor which now has a trike to help her lift off.
So far her observations have found the Bewick's swans fly much higher than previously thought, above the clouds or slightly low to the clouds.
"When the geese come over to you in migration you hear the calls of the geese quite loudly and it's only when you know what to listen out for you can hear the noise of swans.
"When they're flying in a big V in the sky it can be quite hard to hear for the hunters to hear the difference between the geese and the swans," she added.
The conservationist who works at Wildfowl and Wetlands Trust headquarters in Slimbridge added this could be one of the reasons why numbers are falling.
"They survive on hunting and grousing there isn't much agriculture at all so just hearing their reasons, discussing hunting has been interesting.
"They are very pragmatic people, we've been able to talk about swan numbers and they've been offering suggestions on how they can help," she added.