Review finds murder was 'predictable' after 40 years of abuse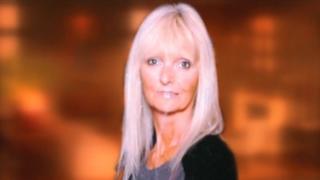 A review to "learn lessons" from the murder of a woman by her ex-husband has found her death was "predictable" but could not have been prevented.
Jane Wiggett, 57, was strangled to death by Danny Spencer at her Cheltenham home in 2013.
The Domestic Homicide Review said she suffered 40 years of "consistent abuse, control, violence and stalking".
An action plan has been implemented to "prevent a tragedy like this from ever happening again".
Spencer was jailed for life in 2014 after being found guilty of her murder.
'Lost confidence'
They were married for 30 years but divorced in 2005.
Ms Wiggett repeatedly reported him to police and sought help and advice from various organisations over psychological and physical abuse.
The review stated: "She lost faith in the police and other agencies to help when nothing changed, and (Spencer) was not dissuaded from abusing her.
"She became resigned to managing him alone...she said no matter what she did nothing worked, nothing stopped him or the abuse.
"The distress and defeat in her voice were clear."
The review was not carried out to reinvestigate the death or apportion blame but to identify "lessons to be learned".
It found there was "no consistency across Gloucestershire in its approach to domestic abuse".
Independent chair of the review Dr Jane Monckton-Smith said: "She (Jane Wiggett) was suffering from all of the high-risk markers that we associate with somebody being in danger of homicide.
"So from that perspective we couldn't possibly say it wasn't predictable.
"It's very difficult to say that any agency could have prevented her death on that night."
'Empower people'
Since the murder, organisations in Gloucestershire have overhauled the way they deal with domestic abuse.
Gloucestershire Police has made changes to their domestic abuse policy and procedures.
Det Supt Simon Atkinson, Head of Public Protection, said: "We use an electronic risk assessment which enables information to come very quickly into the centre so we can assess it and we give them a guidance document.. about what they need to understand and we hold a daily meeting with partners to unpick all the domestic abuse that's happened in the last 24 hours.
"We need to empower people to make the right decisions."