'No breaches' found by HSE after 2014 hospital stabbing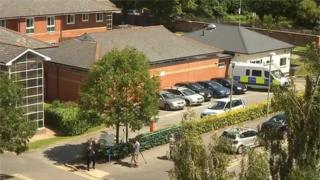 A mental health unit where a worker was killed by an inpatient in 2014 did not breach any health and safety guidelines, an investigation has found.
Sharon Wall, 54, from Gloucester, was attacked at the inpatient unit of Wotton Lawn Hospital in July 2014.
The Health and Safety Executive (HSE) has said it found nothing to link 2gether NHS Foundation Trust's management practices with her death.
Ryan Matthews, 62, was later given a whole life order in January 2015.
Matthews was already serving a life sentence for double murder when he attacked Ms Wall. He admitted the charge against him.
A spokesman for the HSE said: "While HSE's investigation identified areas for improvement in how the 2gether NHS Foundation Trust manages the risks of violence and aggression generally, there was no evidence linking the Trust's management systems to Sharon's death.
"Therefore HSE will not be taking any further action, as no serious breaches of health and safety law were found."
The spokesman said the victim's family and the trust had been informed.
The findings will now be shared with NHS England's Statutory Homicide Enquiry to consider areas of improvement.
Wotton Lawn is a 88-bed acute mental health hospital in Gloucester.