Rare newts discovered living by Gloucester and Sharpness Canal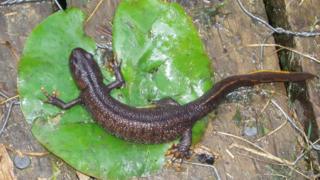 Rare great crested newts have been found living alongside the Gloucester and Sharpness Canal.
It is the first report of the protected species in the canal's almost 200-year history.
Great crested newts have declined in the UK and are protected under EU and UK law.
Canal & River Trust ecologist Laura Mulholland said she was "delighted" the newts had made a home on the canal.
She explained the canal edges and undisturbed grassland nearby provided "the ideal mix of habitats" as it was "damp and sheltered".
"This is something that the UK newt population often struggles to find, so we're really excited that they've found the right balance on the canal," she said.
Great crested newts are Britain's largest newt species and are near black, with spotted sides, an orange belly and warty skin.
There are thought to be about 400,000 in the UK.
Due to their protected status, developers who find colonies must sometimes go to extreme lengths to avoid disturbing them.