William Tyndale bible read aloud over 24 hours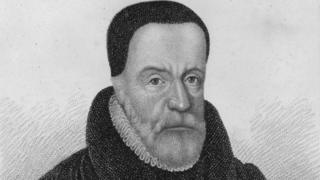 A scholar who translated the New Testament into English is being commemorated in Gloucestershire with a 24-hour marathon reading of his bible.
William Tyndale, who was born in the county in 1494, translated the bible from Hebrew and Greek which then became the basis of the King James Bible.
To mark the 150th anniversary of the opening of the Tyndale Monument in North Nibley, the whole Tyndale Bible will be read aloud over 24 hours.
The reading will begin noon on Friday.
William Tyndale, believed the Bible should be available to every ploughboy and shepherd in the Cotswolds but King Henry VIII disagreed.
Using the printing press to spread his translation, he could produce biblical texts faster than the church could burn them.
But his work was seen as a direct challenge to King and church and he was burnt at the stake in 1536.
Sue Convery, one of the organisers of the 24-hour marathon reading, said: "We don't know exactly where he was born but we know it was in this area and it just means so much to everybody.
"We've got a very old facsimile of the Tyndale Bible, so it's his words, only slighted modernised."
The reading will begin at 12.00 BST on Friday.