Tribunal to probe Gloucestershire waste incinerator 'secrecy'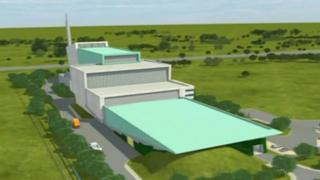 A tribunal has begun into whether a local authority can keep the full costs of building and running a waste incinerator secret.
Gloucestershire County Council gave Urbaser Balfour Beatty the green light last year to start work on the Javelin Park scheme.
Campaigners against the incinerator had called for the council to publish full details of the deal.
But the authority refused and said it was commercially sensitive.
The plans were referred to the Government's Information Commissioner, who concluded details of the contract should be made public - a ruling the council is contesting.
It was previously announced the scheme near junction 12 of the M5 would cost £500m over 25 years.
But campaigners demanded to see a breakdown of the contract, including how much the council will pay the company per tonne of waste.
Gerald Hartley, from campaign group GlosVAIN, said: "The council say they've selected a bidder because they are best value for money.
"Let's see the contract and the business case.... and then we will all be able to see for ourselves why it is such good value."
The council's deputy leader Ray Theodoulou said it had already published 95% of the contract and revealing the final details would hamper future negotiations with other companies.
"Releasing the remaining information to everyone would mean... they will have details of what we have agreed and paid in the past.
"This puts us at a disadvantage when we're trying to get the best prices for local taxpayers."
The tribunal in London is due to last four days and a decision is due to be announced next month.