Antarctic explorer Sir Raymond Priestley's blazer shown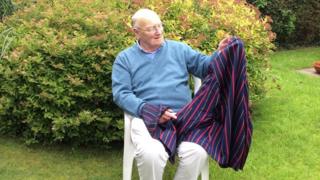 A school blazer and scarf belonging to the Antarctic explorer Sir Raymond Priestley will be going on display.
Sir Raymond was a surviving member of the 1910-1913 Antarctic expedition in which Captain Robert Falcon Scott and three other explorers died.
The clothes were worn by Sir Raymond when he was a pupil at Tewkesbury Grammar School which closed in 1972.
Colin Osborne from the Old Theocsbrians Society said: "It's the sort of item we should treasure in future years."
Sir Raymond and five others survived for four months stranded in the freezing wilderness of Antarctica when the expedition ship failed to collect them.
They survived the long winter in an ice dug-out, eating penguin and seal meat.
Sir Raymond went on to have a career in the military and academia.