Late-night levy considered for Gloucester clubs and bars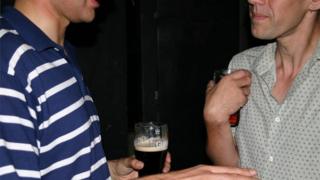 Bars and clubs staying open late at night in Gloucester are being asked for their views on a monthly £300 levy.
The city council wants to introduce the charge to help pay for extra policing and cleaning up and has urged traders to take part in the consultation.
It would retain up to 30% of the levy and 70% would be paid to the Police and Crime Commissioner.
But some bar owners in the city have described it as another "stealth tax".
The council said "revenue raised would help manage the night-time economy and reduce crime and public nuisance".
It already has "many initiatives to tackle issues such as crime and disorder, anti-social behaviour and hospital admissions", it added.
These include CCTV, taxi marshals and street pastors but it said they were "resource intensive".
It said a late-night levy would "allow relevant businesses to financially contribute toward these and new schemes, to make sure that Gloucester continues to be a safe destination".
Bar owner Justin Hudson said: "For us, the trade perceives the late-night levy as just another stealth tax that's just going to be apportioned onto an overtly legislated trade already."
The consultation is open until 7 December.