Gloucester Foodbank to continue at new storage site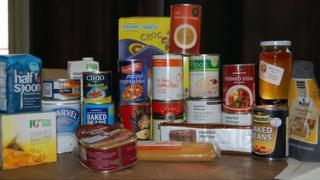 A food bank which was under threat of closure will continue to operate after a deal was made to use a storage site.
Gloucester Foodbank lost its previous base in March and since then has been storing food donations in a commercial self storage unit.
A site in Southgate Street will now be used for storage while sorting will be carried out at the food bank's current site in Great Western Road.
A spokesman said it was vital for the charity to continue.
Warehouse manager Gerry Malecki said "We've decided to work the other way round and do the sorting at Great Weston Road, and take produce we're not going to need for weeks or months to the storage facility."
He said the incoming food supply had "increased dramatically" and almost trebled in the past two years
"This is vital. We could just not carry on the way the way we were."
Run by The Trussell Trust, the food bank provided three days' worth of food parcels to 4,900 people in 2015.