Councils back bid for new Severn bridge and M5 junction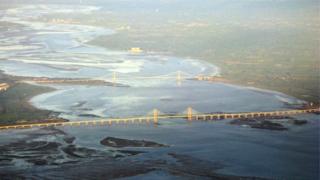 A new M5 junction and bridge over the River Severn in Gloucestershire has been backed by two councils.
Stroud and Forest of Dean district councils have written to Highways England to request a Junction 13A.
It would be positioned between J13 for Stroud and J14 for Wotton-under-Edge. A bridge linking the junction to the Forest Of Dean would also create a third major route into Wales.
A feasibility study into the proposed works will take place later this year.
The bid for J13A is also seen as a growth opportunity for Sharpness, Berkeley, and Oldbury.
In a letter to the roads operator, Stroud District Council's chief executive David Hagg said: "This would relieve pressure on existing junctions and build capacity as major housing and employment growth takes place in Stroud district.
"It opens up the opportunity for substantial and repeated growth in a key development area in Stroud district, centred on Sharpness Docks, the £40m Gloucestershire Science and Technology Park at Berkeley Green and growth associated with the new nuclear power station investment at Oldbury in South Gloucestershire."
It comes as Highways England consults on its future major road strategies and Stroud District Council considers where best to invest in its infrastructure as part of a local development plan.
The leader of Forest of Dean District Council, Patrick Molyneux, said a third Severn bridge could be "a real game changer".
"It's an opportunity for Stroud, the Forest and for Gloucestershire as a whole.
"It would make Lydney the real gateway to the Forest, and making that link across the river would bring everything together."