Chedworth Roman Villa's new dig gets under way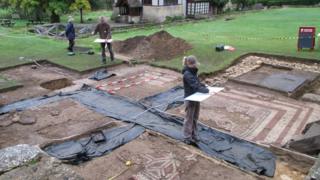 A fresh excavation is under way into part of a Roman Villa which has been undisturbed for 1,600 years.
Archaeologists will be digging around the northern wing of Chedworth Roman Villa, in Gloucestershire, around the bath house and near the spring.
Lead archaeologist Martin Papworth said: "One of our trenches last year didn't appear to get to the bottom levels."
The dig is part of a five-year project to explore the north side of the villa.
'Smaller and thinner'
Last year, a dig took place revealing a tile with a deer's hoof print on it, two 4th Century Roman coins, a bone pin, and more of a mosaic.
Mr Papworth added: "We will be opening that (the northern range) up again and extending it to fully understand what is there.
"We found the area full of pieces of painted plaster and pieces of mosaic which we think might be a rare wall mosaic.
"The tiles are much smaller and thinner than those used on floors and we hope to find more of that."
An area near the front of the northern bathhouse and near the spring, also known as the Nymphaeum, will also be explored.
"By the Nymphaeum we want to check an earlier floor level and a lower doorway from an earlier phase of building at Chedworth," added Mr Papworth.
The excavation is due to take two weeks.