Gloucestershire potato farmer issues health warning over stolen spuds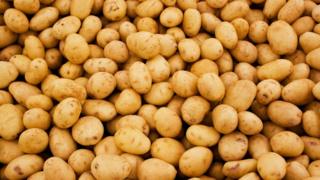 Hundreds of potatoes have been dug up and pinched from a field, sparking a health warning over eating them.
Farmer Andrew Goulding, from Newent in Gloucestershire, said he had lost about 220lbs (100kg) of Crispin potatoes - a variety used to make crisps.
The root vegetables were recently sprayed with a chemical and should have remained in the ground for a further three weeks before harvest.
Mr Goulding warned there was a risk of illness if they were eaten.
'Just annoying'
"We've sprayed them with a spray that stops them from sprouting in the store and you're not supposed to use them or eat them for three weeks," he said.
"It's just annoying to think people would do that type of thing when you're trying to grow crops - some think they can help themselves."
A total of 12 yards (11 metres) of the 32-acre field off Foley Road has been harvested without Mr Goulding's knowledge.
"One set was taken last week and a second load was stolen sometime between Tuesday (2 August) and last night," said a spokesman for Gloucestershire Police.
"Anyone who falls ill after eating one of the potatoes should seek medical advice."
The force has appealed for information and witnesses.