Gloucestershire hospital trust continues to miss A&E targets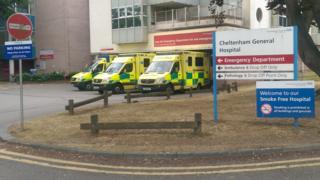 A hospital trust is in breach of its licence for not meeting A&E waiting times, a watchdog has found.
NHS Improvement said Gloucestershire NHS Hospitals Foundation Trust had not met the four-hour target.
It said it would "provide extra support" to Gloucestershire Royal and Cheltenham General hospitals to ensure A&E patients were seen "more quickly".
The trust said it was "disappointed" but was "committed to getting it right for our patients".
An investigation in March by NHS Improvement - formerly Monitor - found the trust was not meeting the standard.
A "recovery plan" was put in place to reduce waiting times but the regulator said waiting times were "still too high".
In May and June the trust saw 87% of patients within four hours. The target is 95%.
'Significant changes'
NHS Improvement said it was working "closely" with the trust to help it make improvements and "recognised the efforts" of the trust.
Claudia Griffith from the watchdog added: "However, there are significant changes that still need to be made to make sure patients are being seen more quickly.
"We will work closely with the trust to make sure it has everything in place to develop a robust recovery plan so it can continue to make positive changes."
The trusts's chief executive Deborah Lee said: "We fully accept the need to improve performance in A&E and the role that we have to play in achieving this.
"We are also encouraged by the recognition locally among our health and social care partners that in order to fully tackle this complex issue we need to work closely as a health and care community."
NHS Improvement said it would continue to monitor the trust's progress and "may take further regulatory action if necessary".