Cleveland Lakes: Warning over harmful lake algae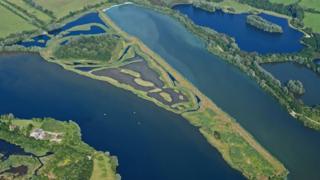 Visitors to a lake are being warned of potentially harmful blue-green algae found growing there.
Its blooms produce toxins that can cause rashes, eye irritation, vomiting and diarrhoea and can be harmful to animals, the Environment Agency said.
Ben Welbourn, estates manager of Cleveland Lakes, near Ashton Keynes on the Gloucestershire Wiltshire border, said people should be careful.
He said children and dogs should be kept away from the lake's edge.
Mr Welbourn said: "Access to the water on nature reserves is already prohibited, but in moments of excitement children and dogs can sometimes slip the shackles of their parents' or owners' supervision and make a dash for the water's edge.
"If you're out exploring these sites please continue to enjoy yourselves and interact with nature, but take additional care to make sure you and your family don't suffer any ill-effects from these algae."