Armed police swoop on 'shot' train in Cheltenham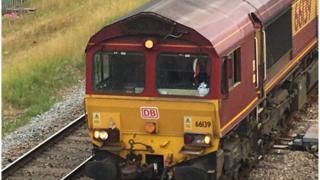 Armed police rushed to a level crossing amid reports a train driver had been shot at.
The freight train was travelling through Swindon Village in Cheltenham when the window of the cab shattered. There are no reports of injuries.
British Transport Police investigated whether the damage could have been caused by a pellet or slingshot.
But the BBC understands this was not the case, and police are trying to find out if a rock was hurled at the train.
Armed police have been stood down and the freight train has been moved off the section of track.
A BTP spokesman said: "Officers are investigating and deploying resources to the scene along with their colleagues at Gloucestershire Police. They are trying to establish what happened."
All trains are running as normal after earlier delays.