France coach crash: Cheltenham students to return to UK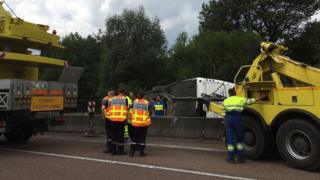 Students and staff involved in a coach crash in France are expected to return to the UK later.
The vehicle, carrying pupils from Bournside School in Cheltenham, went into a ditch on the A39 motorway at Lons-le-Saunier, near the Swiss border.
There were 42 students, six staff and two drivers on board. Two pupils who were seriously injured are being treated in hospital in France.
The school confirmed 40 pupils and staff will return home.
In a statement on its Facebook page, the school said: "Our thoughts continue to be with the two students and their close family, who are seriously injured in hospital in France and will not be returning to the UK for now.
"I am pleased to be able to confirm that the parents of both students are now with their children and are being supported by the school and other relevant agencies."
The coach, operated by Caernarfon-based Express Motors, was heading to Italy where the students, who are aged between 14 and 18, were going for a camping trip.
Police say no other vehicles were involved in the accident, and an investigation is ongoing.