Kayleigh-Anne Palmer murder: Risk to pregnant teen 'known'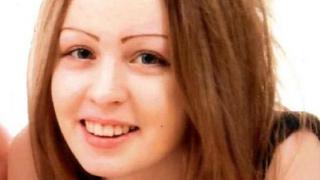 Authorities knew a pregnant teenager who was murdered by her boyfriend was at risk, a report has revealed.
Kayleigh-Anne Palmer, 16, was choked with a scarf by Aston Robinson, 18 in 2014.
He was jailed for life for murdering the Cheltenham teenager, who was 24-weeks pregnant.
A Gloucestershire Safeguarding Children Board (GSCB) review found risks were identified by different authorities but were not looked at collectively.
Youth services, social care, the police and local NHS health trusts were all involved with the couple during the period under review, between October 2011 and Kayleigh-Anne's death in April 2014.
Over that period, the various authorities were informed of numerous incidents where Robinson had been violent or exhibited controlling behaviour towards Kayleigh-Anne.
During one incident, a neighbour told police he had assaulted her, and that she thought Robinson had knocked her to the ground and kicked her in the stomach, while she was pregnant.
And in another, Kayleigh-Anne attended A&E saying she had been punched to the ground by a male she refused to name and left with a bleeding nose.
It was also recorded she turned down the offer of a foster care place and was a self-harmer.
The review said police missed a chance to "engage" with her boyfriend, and the response from social care was slow.
It said there was not enough support in the county for victims of domestic abuse aged under 18, and there was a lack of understanding of domestic abuse between teenagers.
Dep Supt Simon Atkinson, of Gloucestershire Police, said: "There are things that we could have done differently for sure, whether or not that would have prevented poor Kay being murdered, that's a question that we're just not able to answer."
David McCallum, chair of GSCB, said Ms Palmer did not engage with authorities because she was being manipulated and controlled within an abusive relationship.
"We all need to understand the dynamics of domestic abuse - victims very often don't engage because they are subject to that control," he said.
"All the professionals need to understand that dynamic, and not rely on a formal allegation coming from the victim."
Sally Morrissey, of Gloucestershire Domestic Abuse Support Service, said it was "a failing" Ms Palmer's boyfriend was not offered help.
"There are perpetrator programmes in the county, but they usually start at the age of 21," she explained.
"We know there are a lot of young men out there with some really bad attitude towards women.
"Those have got to be challenged and [the young men] have got to be worked with, otherwise we're just storing up problems."