Cat with no nose struggling to find new home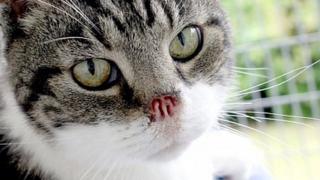 A cat with no nose is struggling to find a new home because of "his unusual feature", a rehoming centre has said.
The cat called Dave, 14, came to the Bath Cats and Dogs Home in Somerset about a month ago after its elderly owner had to go into a retirement home.
The tabby had to have the front of its nose removed a few years ago because of a cancerous tumour.
Staff said it "doesn't affect him at all" but sadly no-one has yet "seen past Dave's nose" to adopt him.
Rachel Jones, from the centre, said the "old boy" was just looking for a "quiet retirement home" where it could "live the rest of his years in peace and quiet".
"Dave is beautiful but sadly due to his looks he's struggling to find a home," she said.
"It doesn't affect him at all and he doesn't need specialist care - he just looks odd.
"But he's a very loving cat and just waiting for someone to overlook his unusual feature and give him a forever home."